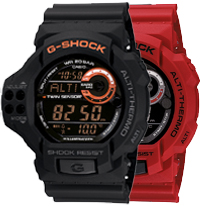 Casio have just announced a brand new model, the GDF-100. The watch features twin sensors for pressure and temperature and is of course shock resistant. The GDF-100 is an interesting model in the G-Shock line up, yet another release which introduces something new into the range. Hope to have one here for review very soon. Black or red though

Read on for full press release
G-SHOCK PROUDLY UNVEILS THE NEW GDF-100 TIMEPIECE
Unmatched Versatility For the Outdoor Enthusiast
DOVER, NJ, March 23, 2011 — Casio's flagship timepiece collection proudly announces the newest edition to the G-Shock family, the GDF100. Designed with the avid outdoorsmen in mind, the GDF100 has a built in twin sensor and rugged construction to withstand any adventure.
A brand new case design for G-Shock, the GDF100 has a front-facing pressure and temperature sensor built into the case/bezel at the 9 o'clock position. The pressure sensor measures barometric pressure as well as converts barometric pressure readings into relative altitude readings based on ISA (International Standard Atmosphere) conversion values stored in the watch's memory. For greater visibility and performance during the critical stages of climbing or descent, both temperature and altitude can be viewed on the watch display simultaneously.
"We are excited to offer a new G-Shock geared toward the outdoor adventurer," said Shigenori Itoh, Vice President of Casio's Timepiece Division. "The GDF100 offers a rugged, yet functional timepiece option for any wilderness outing."
Additional GDF100B features includes G-Shock's legendary shock resistant structure, 200M Water Resistant, Super Illuminator LED Backlight, World Time (31TZ/48 City), 5 Independent Daily Alarms, Hourly Time Signal, 1/100th Sec. Stopwatch, Countdown Timer, 12/24 Hr. Formats and Mute Function.
Available in Matte Black with orange accents and reverse LCD (GDF100-1B) and Crimson Red with black accents and a reverse LCD (GDF100-4) for $130 at Tourneau and Fashion Time. For more information please visit www.gshock.com.