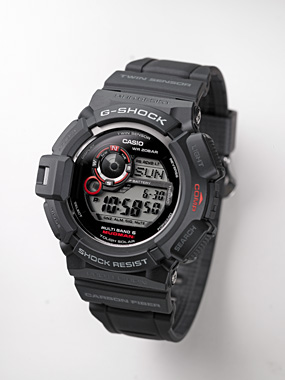 Following on from the news we brought you last week about the upcoming release of the
G-Shock G-9300 Mudman
Casio Japan have announced the G-Shock GW-9300 Mudman, the multiband 6 version of the new Mudman. Along with a temperature sensor and compass the watch features multiband 6 atomic time sync and is of course mud and shock resistant. The watch is set for release on 30th June. Looking forward to getting hold of this model for review - looks a classic in the making.
Full details (translated from the Japanese) via
Casio Japan.
Casio, impact resistance watch "G-SHOCK" from mud structure with a dust-proof "MUDMAN (Madman)" as a new product, an internal temperature sensor and a magnetic sensor can measure the orientation and temperature [ GW-9300] released on the 30th June.

"G-SHOCK" Since then launched in 1983, based on structural features and superior impact resistance, the design has continued to evolve.Intended for use in harsh environments Among the "Master of G (Master of G)" series, which has gained popularity as a model for the evolution of toughness performance.

We will guide you ] [GW-9300 is intended for use in harsh environments such as deserts and jungles, and the plastic cover parts of the button, a new dust-proof barriers to enter the mud is dirt and mud inside the watch structure with a "Master of G" series "MUDMAN" is. In particular, for the pursuit of reliability and functionality required by the rally cars run through the desert for several days.

Just one push button at the big three every mode even though the clock, measuring the orientation. In a few situations like the desert was a target, you can immediately see the direction your facing. The circle-shaped LCD window at the side of 10, displays a graphic indicating the four cardinal points.
And when the bivouac during the rally, as well as can be known by measuring temperature changes in the environment in the desert intense differences of temperature day and night, so graphically displays moon phases small window in the side at 9, the day It is also possible to act on that understanding the moonlight night. Of course, in the measurement of time required in the rally race car is 1,000 hours 計Reru 1 / 100 second stopwatch mounted. While progress is measured over a long time, stuck to the practical orientation and temperature can be measured simultaneously. Solar-powered "Tough Solar" and corresponding to six standard radio stations worldwide, "Multi-Band 6" is provided.

The band, by incorporating carbon fibers sealed in plastic, ruggedized "カーボンファイバーインサートバンド" adopted. Design technology and proprietary performance toughness, by fusing electronics own, such as digital display and sensors, and watch solar radio shock embody the superior functionality and reliability for use in conditions tough.


| | | | |
| --- | --- | --- | --- |
| Model name | MSRP | Release Date | Monthly number of initial |
| GW-9300 | 35,000 yen (36,750 yen including tax) | June 30 | 3,000 pcs |
"The main specifications of the new product"
Structure
Shock resistant, dust-proof construction of mud
Performance
20 ATM water resistant
Direction measurement
Azimuth orientation angle 16 (0 ° ~ 359 °) measurement, continuous measurement direction (20 seconds)
Graphic compass display, memory bearing (angle of orientation, memory, a graphic indicating the direction of the recording), magnetic declination compensation, orientation correction
Temperature measurement
Measuring range: -10 ~ ℃ 60
Moon Data
Shape of the moon age display
Received signal
JJY (Japan): 40kHz (Hukushima station) / 60kHz (Bureau of Kyushu),
WWVB (USA): 60kHz, MSF (UK): 60kHz,
DCF77 (Germany): 77.5kHz, BPC (Tyuugoku): 68.5kHz
How radio receiver
Automatic reception (six times / day, only China five times / day), manual receive
World Time
48 cities (31 time zones, daylight saving time setting function) + UTC (Universal Time Coordinated) time display, UTC direct call function
Stopwatch
1 / 100 second measurement, a total of 1,000 hours, with a split
Timer
In set: 1 minute, set up: 24 hours, measured in seconds
Alarm
This five alarm (snooze function with only one book), Times
Other Features
Battery indicator displays, Full automatic, switchable 12/24 hour display, Beep ON / OFF switching function, EL Backlight (full auto EL light with afterglow function, switching afterglow time: 1.5 seconds / 3.0 seconds)
Power source
Tough Solar (solar charge system)
Continuous operating time
Power saving state ※ about 22 months (when fully charged)
※ turn off the display to save power after a certain time in the dark.
Size
53.0 × 50.8 × 18.2 mm
Mass
68.5 g