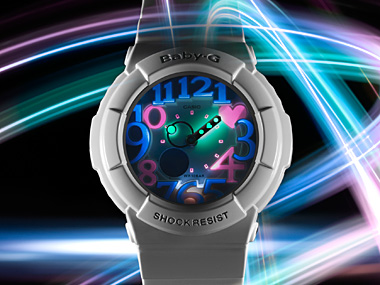 Casio Japan have today announced a new range of Baby-G watches, the BGA-130/131. These new Baby-G models feature a striking LED backlight and unique face. The watches will be available in Japan on June 30th, set for an inital release price of Yen 14,175 which is around USD$170 and GBP£104. The range features four models, the BGA-130-2BJF, BGA-131-1BJF, BGA-130-1BJF, BGA-130-4BJF & BGA-131-7BJF.
Full translated press release from
Casio Japan
below
[top]Pop, cute and colorful glow in the dark "Baby-G"
Black Light LED emits light in response to the dial and hands, "Neonirumineta" with
Casio, shock resistant watches for women "Baby-G" as a new model of LED lights with black ink and special phosphors "Neonirumineta ※"adopted BGA-130/131 [] from the date of June 30 will be released.
※UV LED is illuminated with an IEC Class 1M meet safety standards.
However, the optical means (eg magnifying glass) must be careful not to look into using a light source directly.
BGA-130/131] [ The internal LED light black ink on board when the character or characters special phosphors to emit light in response to light, and applied to the needle. And lights in the dark, green or pink, and blue color comes to the surface, and watch a unique look you can enjoy two different impression.
The trend Biggusaizukesu adopted. During the three-dimensional characters, the numbers are arranged rhythmically different size, feel the design is finished by putting more depth to the height difference. The hour hand is a ring design image. In addition, characters such as a heart-shaped at the 2 o'clock position, a unique watch with a girl sticking "Baby-G" I arranged ish.
Combination of black and pink ] [BGA-130-1BJF with a matte black ] [BGA-131-1BJF , White ] [BGA-131-7BJF is a special phosphor dot pattern and heart print patterns of minute hand expressed in body ink. The blue ] [BGA-130-2BJF and pink ] [BGA-130-4BJF is coated with a special fluorescent ink dot pattern on the minute hand, with a heart print will die, except the dial In addition to a playful look.
Be enlivened in mind that just looking, cute pop "Baby-G" is.
BGA-130-1BJF

Pink Black ×

13,500 yen (14,175 yen including tax)

June 30

4,000

BGA-130-2BJF

Blue

BGA-130-4BJF

Pink

BGA-131-1BJF

Black

BGA-131-7BJF

White