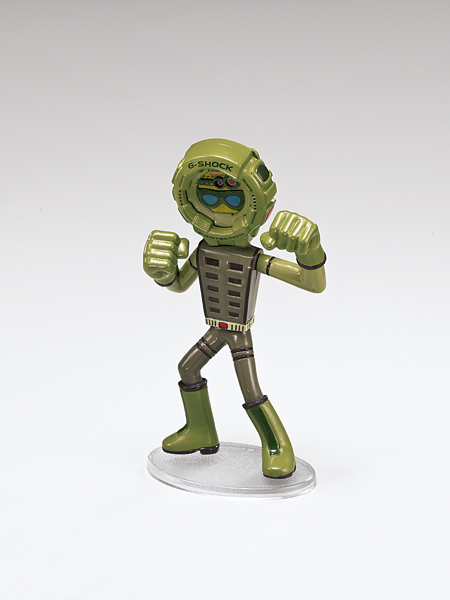 More details and most importantly pictures of the G-Shock GD-100PS-3JR playset have arrived here at G-Shockzone. The G-Shock GD-100PS-3JR watch comes complete with a matching khaki playset figure called 'Chinami' created by Shiro Nakano. The playsets are always popular and are biund to sell out, be quick if you want to score one at the ¥ 17,325 (USD$211 / GBP£128) retail price.
Full text
via unbar.jp
tranlated via excite.
Fashion, music, culture and identity of various art "tough" fusion, around the world continue to stir a new movement - G-SHOCK. The mixed culture was born from the "G-SHOCK MAN" came from a new character.
Strong LED that emits a bright light with a light based on GD-100, G-SHOCK MAN who created a new character is the father of Shiro Nakano.
Chinami emits bright LED lights mounted sunglasses. Clock is based on the color of your character illustrations, he is a member of Nakano "play set products" design. Khaki-colored body with several different colors, one point has become the side buttons when the red 4.
The three-dimensional figures of the watch body and texture of a true illustration of work now going to have a sense of serving more special. Collaborative model to embody the fusion of culture and art mix of technology from Japan.