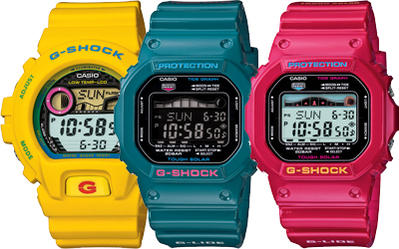 Further to the news we brought you about the
new G-Shock April 2011 releases
Casio America have officially announced the release of three bold coloured G-Lide models in the USA. All three G-Lide models feature tide graph functionality along with the normal G-Shock features, the models will be available at Macys, surf shops and selected fashion stores. The models released are the yellow GLX-6900A-9 which will retail for USD$99, the raspberry GRX-5600A-4 and the blueberry GRX-5600B-2 both of which will retail for USD$130 .
Full press release included below
G-SHOCK PROUDLY UNVIELS A REVAMPED CLASSIC
The G-Lide Now Offered in New Bold Colors with Advanced Technology
DOVER, NJ, April 28, 2011 — This summer, Casio America Inc. proudly offers the G-LIDE GLX6900 and the G-LIDE GRX5600 in three new bold colors. A new twist on the best selling G-Shock shape in the U.S. market, the G-LIDE GRX-5600 is a classic silhouette with new Tough Solar functionality while the GLX6900 comes in a new bold matte yellow with pop color details.
Similar to its predecessor the GLX6900 G-LIDE possesses tide graph capabilities, fully embracing the surf and water enthusiast lifestyle. The G-Shock GLX6900 features 200M water resistance, a low temperature resistant LCD specifically designed to avoid fade out at low temperatures (-20°C/-4°F) and an easy to read tide graph and moon data graph with contrasting LCD for the ultimate in tracking high and low tides.
The GRX5600 is available in a high gloss blueberry and raspberry finish now featuring a Tide graph display. As a passionate supporter of the Surf Community, the CASIO GRX5600 shows tidal movements for the top 100 surf locations all over the world. Additionally, GRX-5600 has advanced Self-Charging, Tough Solar Power technology. A G-Shock patent, Tough Solar Power is a tiny, solar panel in the watch face combined with a large- capacity rechargeable battery enabling a variety of energy-hungry functions to operate smoothly by both natural and artificial light.
"We consistently work towards advancing the technology offered in our timepieces," said Shigenori Itoh, CEO of Casio. "This summer we wanted to offer our customers with a well-styled water sports focused chronograph with additional technology that supports their active lifestyle."
Both the G-Shock GLX6900 and GRX5600 watch feature the signature G-LIDE Tide Graph capability, Full Auto EL, 48-City World Time, Multi-Function Alarms, Countdown Timer and 1/100th Sec Stopwatch. The GLX6900A-9 retails for $99 while the GRX5600A-4 (raspberry) and the GRX5600B-2 (blueberry) are $130 at Macy's, select fashion boutiques, surf shops and
www.gshock.com
.