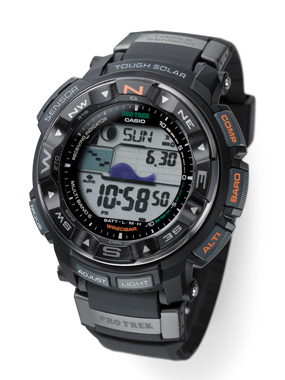 Casio officially sprung the brand new PROTREK PRW-2500 on the world at Baselworld 2011, now Casio Japan have announced the full specification, release date and pricing. The two initial variants the PRW-2500 with a resin band and PRW-2500T with a titanium band will be released on August 31 and September 30th respectively, both with an inital run of 1500 pieces. The PRW-2500 will retail at ¥42000 (USD$530 , GBP£330) and the PRW-2500T will retail at ¥56700 (USD$720 , GBP£445).
The PROTREK PRW-2500 is the latest flagship model in Casio's high tech PROTREK range and as such features a mind boggling array of features as follows
Multiband 6
Tough Solar
Compass
Barometer (inc. trend graph, see below)
Thermometer
Altimeter
Moon chart
Tide chart
Stopwatch
World time
60 minute countdown timer
Alarm
20atm water resistant (200m)
-10 Celcius cold resistant
The watches measure a quite sizeable 56.3mmm x 50mm x 15mm and weigh in at 80.6g for the resin band version and 112.6g for the titanium band version.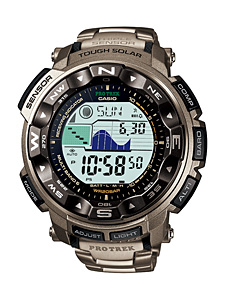 PROTREK PRW-2500T-7JF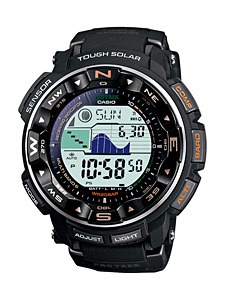 PROTREK PRW-2500-1JF
The PRW-2500 also features a baramotetic trend graph whose operation can be seen below.