Casio Japan have just announced the new G-Shock models for September 2011. After a couple of relatively quiet months Casio Japan have pulled out all the stops for September with eight new pieces including two entirely new models, the GW-8900 and MTG-1200, and the new 'Men In Smoky Gray' range.
The G-Shock GW-8900 is an entirely new model for September 2011. Looks to be an interesting one which we're sure is likely to be popular, look forward to seeing real world pictures via various Japanese blogs later this month. Headline features are tough solar, atomic multiband six, prominent fifth EL button along with size - it's 55.1mm x 52.5mm which makes it even bigger than some of the current 'Master of G' series like the GW-9200 Riseman. The GW-8900 is initially released in three colors including the super stealthy monochrome GW-8900A-1JF which of course has a negative display. Pictures and pricing below.
The G-Shock MTG-1200 is a new all analogue range topper for the ever popular MTG range which sits just below the ani-digi MTG-1500. The MTG-1200 looks to have a similar (or the same) analogue movement as the Giez GS-1400. Headline features for this model are the stainless steel / resin construction, tough solar, atomic multiband six along with stopwatch, CDT, world time and alarm all driven by the analogue display.
Finally for September 2011 is a new addition to the 'Master of G' 'Men In' series, 'Men in Smoky Gray'. Three models are initially released in this new line, the GW-9110GY Gulfman, GW-9200GY Riseman and GW-9300GY Mudman, we can only hope the corresponding Frogman be released soon. All three have a stealthy military look featuring all black resin and black negative displays along with colored accents. The GW-9110GY Gulfman has blue accents 'like the blue of an ocean cruise ship', the GW-9200GY Riseman has orange accents like that seen in 'emergency use' like flight jackets (!?) and the GW-9300GY has green accents like the green grass of the desert - according to Casio Japan this allows one to 'live powefully'! Pics and pricing below.
G-Shock GW-8900-1JF
- ¥23100
G-Shock GW-8900A-1JF
- ¥23100
G-Shock GW-8900A-7JF
- ¥23100
G-Shock MTG-1200-1AJF
- ¥56700
G-Shock MTG-1200B-1AJF
- ¥70350
G-Shock GW-9110GY-1JF
- ¥29400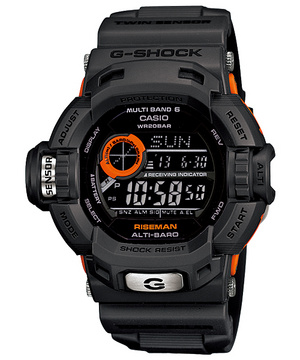 G-Shock GW-9200GYJ-1JF
- ¥29400
G-Shock GW-9300GY-1JF
- ¥37800
Thanks of course to G-Shock Japan for the news