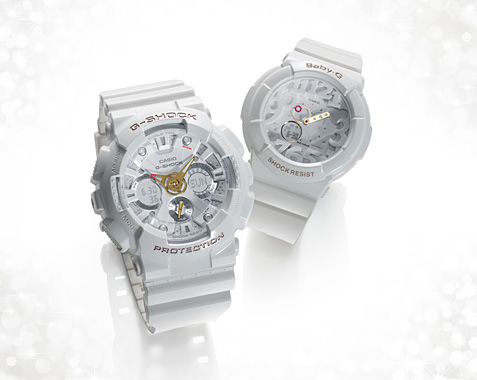 Casio has announced the G-Shock Lover's Collection for 2012. This year two sets are being released, the all white LOV-12A set and black LOV-12B set.
The LOV-12A set features a G-Shock GA-200 and Baby-G BGA-130 both are gloss white with gold hands and feature custom heart shaped packaging. According to Casio the white 'expresses the romantic pomp of a White Christmas'.
The LOV-12B set features a G-Shock DW-6900 and Baby-G BG-6900 both in gloss black with some pink details to the dial along with the custom heart shaped packaging. The black LOV-12B set is designed after the illumination of a snowy Christmas Eve with the pink details reminding the proud wearers of berries. Really.
Japanese marketing which perhaps doesn't translate so well these are some of the strongest lover's sets we've seen. Expect a Japan only release on these, they'll be hitting stores 23rd November.