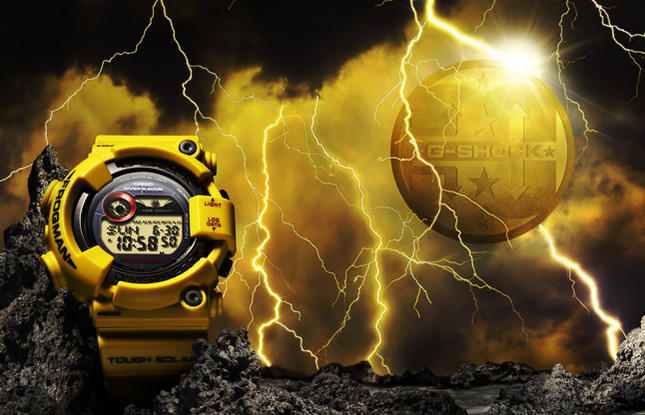 News has come via a leaked press release from Casio USA that the final wave of 30th Anniversary releases is set to be the G-Shock Lightning Yellow series which is due December 2013. The Lightning Yellow series follows on from the
Thirty Stars 30th Anniversary series
which was released last month. Three models are set for release as part of the G-Shock Lightning Yellow Series, the G-Shock GDX-6930E-9, G-Shock GF-8230E-9 and G-Shock GWT-1030E-9. Two Frogs and a new DWX-6900 model based off the venerable DW-6900. Read on for the press release or
click here to join the discussion and see more images in the forum
.
DOVER, NEW JERSEY, DECEMBER 2013 – Capping off the celebration of their 30th anniversary, G-SHOCK is honored to announce the final installments in a series of highly collectible and sought-after 30th Anniversary limited edition models. Capturing G-SHOCK toughness in the vivid yellow associated with lightning, this collection seamlessly combines both the legendary shock resistant structure with high performance functionality for professionals and avid timepiece enthusiasts alike.

The newest design in the collection is based on the best-selling DW6900, taking the recently released, GDX6900 and releasing it in conjunction with two versions of the icon FROGMAN of the Master of G Collection. Case the GDX6930E-9 is 200 meter Water Resist, Shock Resistant and utilizes an advanced shock absorption material called Alpha-Gel® in its construction. It employs an Auto LED Super Illuminator for flick-on-the-wrist nightimer viewing and has other great functions48-city World Time, five Daily Alarms with Flash Alert, 1/100th Sec. Stopwatch, 1/10th Sec. Countdown Timer and four Multi-home Times for the modern jetsetter lifestyle.

Partnered with the GDX6930E-9, are the GF8230E-9 and GWT1030E-9 Master of G FROGMEN; these dive specialists feature ISO Certified 200M Water Resistance full metal cases and Tough Solar Power long lasting performance. Both models feature a Full Auto EL Backlight for quick displays illumination, Tide / Moon Graphs for the insight needed to safely engage with the ocean, Data Memory up to 10 logs, and come equipped 48-city world time +UTC, 100th sec stopwatch, countdown timer and 12/24 Hr time formats.. The GF8230E-9 features a stainless case while the GWF1030E-9 features a titanium case, both of which are wrapped in a tough urethane resin and feature screw-lock case backs. The asymmetric design FROGMAN with its lager band provides superior fit against the skin or over a wetsuit, and allows for maximum range of movement whether paddling bodysurfing free or deepwater diving. For the ultimate in precise timekeeping, the GWFT1030E-9 FROGMAN incorporates G-SHOCK's unique Multi-Band 6 Atomic Timekeeping technology for radio-controlled automatic time/date updating based on the wearer's home city setting from up to 6 transmission stations around the world.

"The Lightning Yellow collection is a fantastic way to cap off G-SHOCK's 30 years of timepiece progression" said Shigenori Itoh, Chairman and CEO of Casio's Timepiece Division. "The yellow color way, in particular, pays homage to G-SHOCK's first colors ever introduced back in 1992 and its ongoing commitment to technically advanced, functional and stylish designs."

The limited edition Lightning Yellow collection will be available this December, retailing for $140 (GDX6930E-9), $500 (GF8230E-9) and $1700 (GWFT1030E-9) through select fashion boutiques, key jewelers, and the G-SHOCK NYC Soho store.