Administrator
Staff member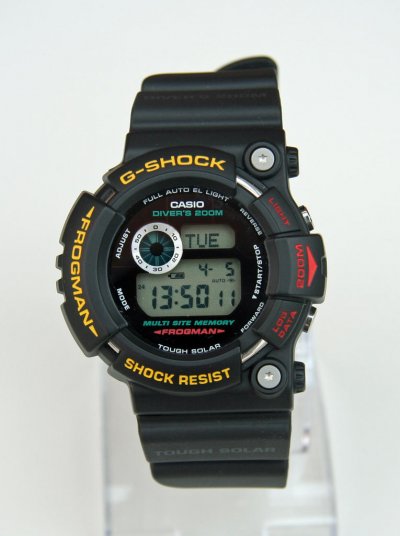 The GW-200 series is undoubtedly one of the icons of both Casio's Frogman and G-Shock line ups. Casio finally announced in November 2009 that the GW-200 series would be coming to an end with the release of the GW-200Z, quickly dubbed by collectors "The Final Frogman". Numerous web pages have been filled over the years with details of the GW-200 Frogman and its various versions. To quickly recap the Frogman is the only ISO certified model in the G-Shock line up, it has a titanium case, it's BIG and of course although it has a GW model number it is tough solar and not waveceptor as one might expect.
[PRBREAK][/PRBREAK]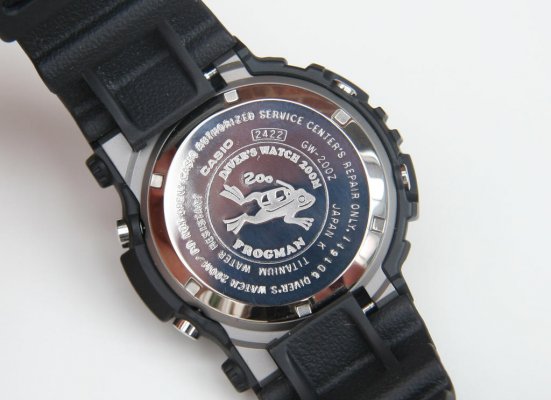 The GW-200Z (GW-200Z-1JF pictured) was designed to be a homage to the original Frogman released way back in August 1993, the DW-6300-1A. The retro and colour scheme and flat black band and bezel are somewhat conservative in comparison to many of the GW-200 variants but I have to say this is what drew me to the Final Frog. There is an excellent comparison of the DW-6300-1A and GW-200Z over on
50-gs
. One other nice touch on this model is the case back, the frog which features on most Frogman case back is blowing '200' in bubbles. Sadly Casio chose not to feature this logo in the EL; this would've really made the watch for me!
So, to sum up. If you've even a passing interest in G-Shocks it's impossible that the GW-200 can have escaped your notice. Will the new Frogman, the
GWF-1000
, become an icon like the GW-200. Only time will tell on that count. However given the GW-200Z can be picked up relatively cheaply from places like eBay
(click here for auctions
) and at well under half what the GWF-1000 retails at now could be the time to hop on the Frogman bandwagon!
G-Shockzone Rating

9/10