Hello Everyone,
Last week I was cleaning my beautiful G Shock 5700 with a toothbrush and some mild detergent when the bezel just crumbled off! I have had this watch since 1987 - and thought that it would go on forever. Its still on, just without a bezel
.
This is what it looked like before the debacle -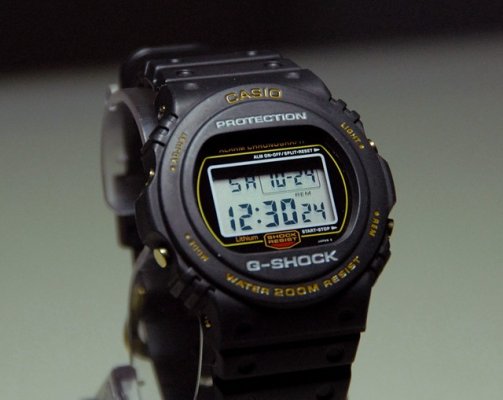 The watch is still in outstanding shape - though it looks terrible without a bezel. After much searching I thought that I would replace the bezel with a Brazilian bezel (Non OEM, available from the auction site) - though they do not make the bezel in the right color combination (My bezel was black with Gold and white text - to match the gold buttons and gold and white rim on the mineral crystal). The Brazilian bezels are actually Gold and Red or White and Red!
Is there any way I can paint this red text to white without ruining the bezel. Please share your thoughts.
I also felt that dropping almost $50 on a cheaper bezel (That probably costs a dollar!) was a bit ridiculous. I am torn between whether I should get a newer G Shock 5600 or revive my tuna can classic DW5700.
Have any of you replaced you DW5700C bezel with the Brazilian one (Not the Brazilian 5600C bezel)? If so, would you please care to show me the final photos of the end product.
Lastly, I saw an original DW5700 on the auction site, with a strange bezel that was identical to the DW5700 original bezel - though a non Casio branded one! It seem that the seller had got a cheaper DW5700 knockoff, and used its bezel to cover the original watch. Here is a photo of that bezel -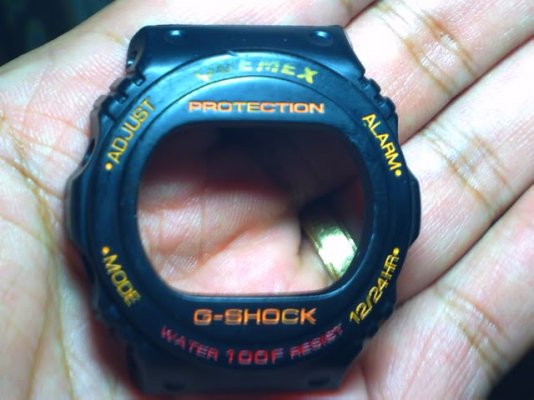 Do any of you know what that watch is or whether I could get it to transplant the bezel!? I would love to give it a try and probably stealth the bezel! Do let me know.
BTW, here is my original 1987 DW5700 (As of right now) with Gold buttons, screws and strap in fine condition -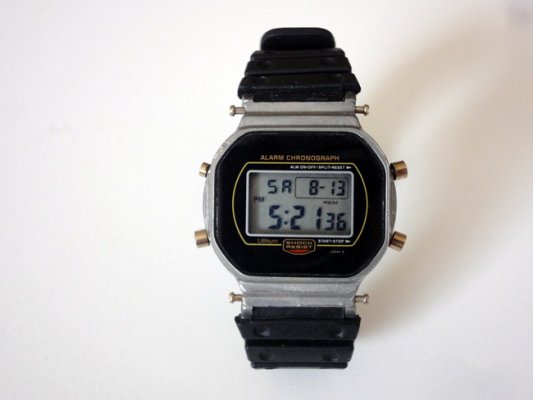 Do respond to this post as I cant get this fix out of my mind...
Best regards,
GP (Dubai).